From this page, you can write to us by clicking on the contact button below or by copying the following address: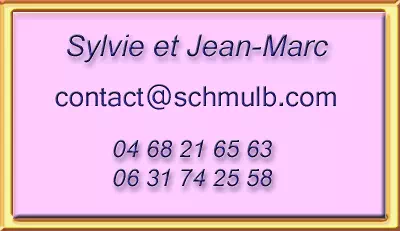 We are located in the South of France, near Perpignan.
We do not speak English well but we'll do our best to communicate with you! :-)

In addition to training workshops, we also make available a variety of other services and artistic possibilities for your business or individual needs:

For companies, groups, associations or private individuals....

*We can use paper mache or other materials to create objects and forms of varying sizes, for advertising or promotional purposes.
*Acording to your needs, we can create original, one-of- a-kind gifts, to offer your favorite clients or to say 'thank-you' with a special touch.
*We can create large forms, characters or carnival floats for special events.
*I can be personally available for on-site artistic direction of decorations for events and demonstrations.

For all of our creations, a variety of colors and finishes are available, ranging from simple to very elaborate.
CONTACT US for your personal estimate.
Workshops teaching the construction of cardboard furniture using the Schmulb method are taught in my studio here in the South of France at various times throughout the year. (It is also possible to organize workshops on demand in your region or country, provided that participants are willing to share travelling costs.)

SCHEDULE: The studio's official hours during training workshops: 9am -7pm (arriving cheerful and ready to work!) Training days are 8 hours, with a scheduled break between 1 to 3 pm for lunch.
Schmulb's website in French.