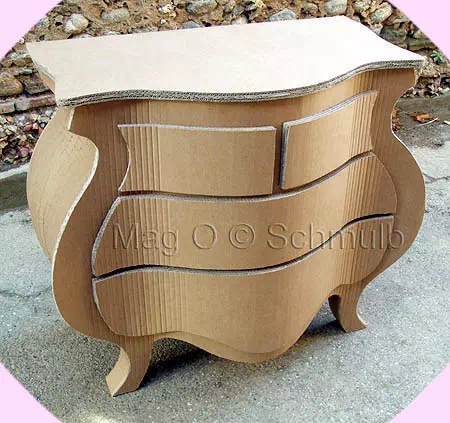 Chest of drawers cardboard Curved Style Louis XV.
Shelves shaped cardboard puzzle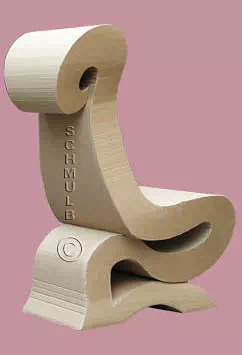 Chair designed by Schmulb, and cardboard sideboard 100 cm broad, 165 cm in height and 50 cm of depth. Each rack can receive piles of plates without ever collapsing.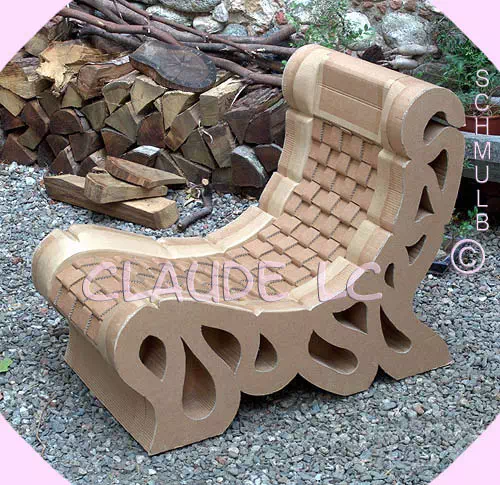 Cardboard armchair designed and built by Claude with schmulb method.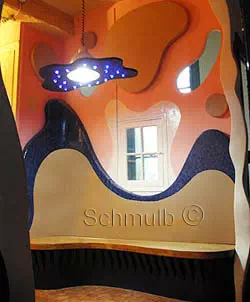 As these photographs show, corrugated cardboard offers, among other things and according to the technique used, the possibility of departing from the traditional angular concept.
Make a cardboard furniture, yes but . . I am a model maker, an originator, and I have often made things that I need.I maintain that one does not have to approach the creation of one piece in a similar way to any other , either in its size, shape or final function. This is why it is important, to understand the technological properties of cardboard, in order to be able to use them effectively
Some questions to ask before making a fitted structure:
Small or large? drawers or cupboards? What will be its function? What requirements and conditions will it need to provide for? What sort of criteria etc

Wall hanging shelf unit to disguise pipework.
This set of shelves is painted in dappled blue and varnished like the rest of the kitchen cardboard furniture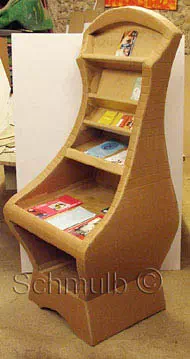 Display stand