Welcome to the world of Schmulb!
Behind the name Schmulb, is 40 years of experience as an artist, model-maker, designer of urban sculptures and decors…a creator of arts and crafts. You will find a specialist and trainer of workshops utilizing a large variety of materials including cardboard, paper mache, polyester resin, plaster and other mixed-media. You will find a designer who transforms cardboard into whimsical furniture with flair and amazing durability, using the Schmulb method.
Developed during the 80's, the Schmulb method of making furniture allows for great flexibility of design resulting in poetic lines and original forms which can be made of cardboard or wood. By incorporating other materials such as plaster, the possibilities of creating amazing furniture and sculpture are limitless!
Schmulb Pro Studio organizes workshops throughout the year where trainees can learn how to design and create their own cardboard furniture and papier mache sculpture. Although the courses are in French, it is possible to manage with my limited English and our use of a hands-on method which allows trainees to 'watch, learn and do'. After all, a picture is worth a thousand words!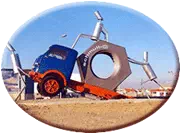 Art - roundabout
Click here If you liked to
sign my guestbook :-)
Schmulb's big website in French whit 1000 cardbord furniture.